SUMMER SCHOOL: APPLICATIONS OF ARTIFICIAL INTELLIGENCE - MACHINE LEARNING TO ESG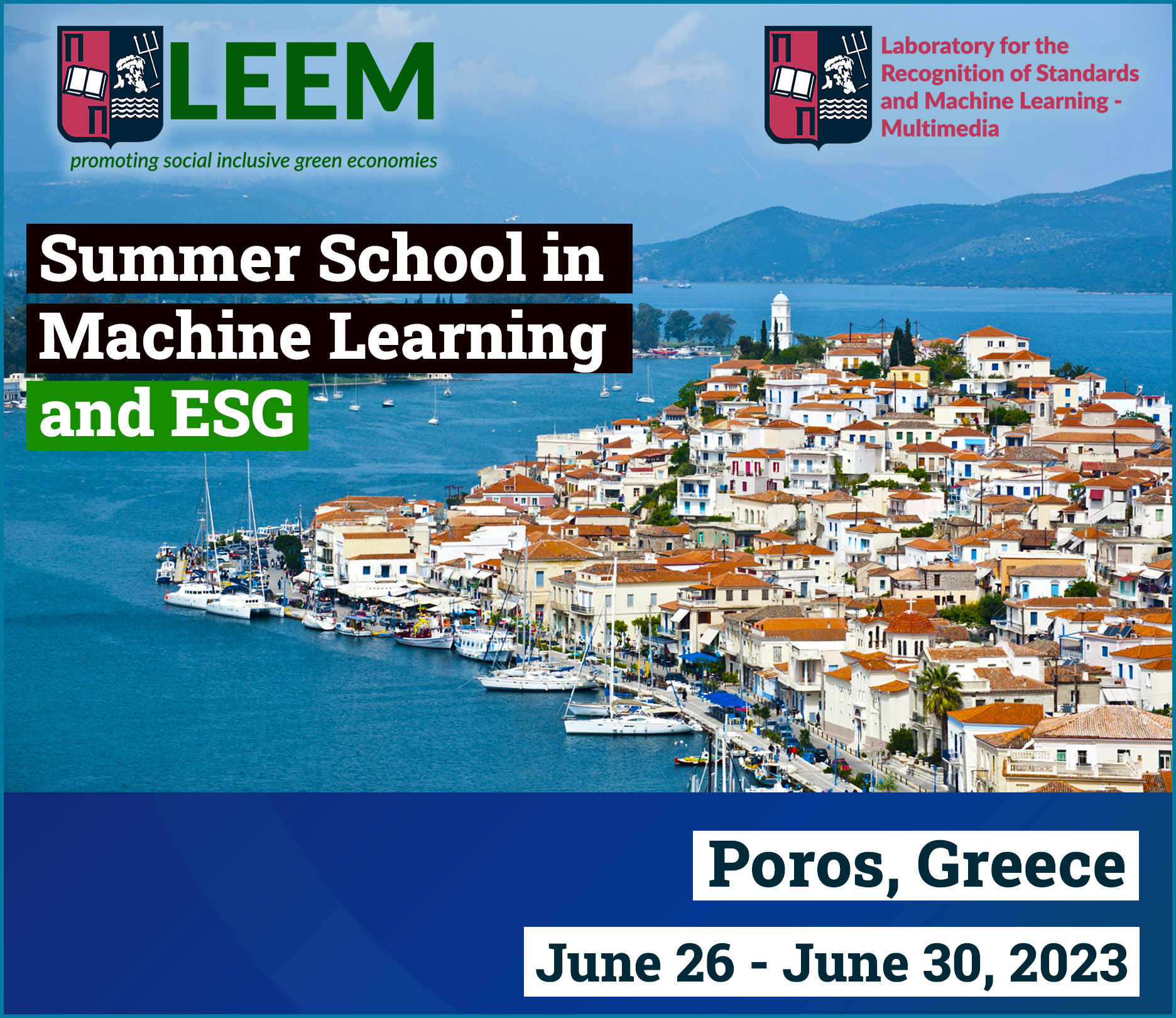 Summer School 2023
The Summer School starts on Monday, June 26th and ends on Friday, June 30th.

Language: English

A Certificate issued by both the LEEM and the Research Center of the University of Piraeus will be issued.
Given the lack of substantial research efforts to explore the role and the predictability of ESG criteria through certain methods and algorithms of Artificial Intelligence, such as Machine Learning, due to the paucity of reliable statistical data, the goal of this Educational Summer School is to familiarize the participants with the methodologies of Artificial Intelligence that provide sufficient data on ESG criteria, as well as to train them on how they can take advantage of those data in order to enhance the future course of those criteria.
The assessment will be entirely based on certain criteria such as the accuracy score. The educational results will be highly useful for those who plan to get a job in corporations whose investment and other decisions are entirely affected by the future course of ESG criteria, as well as for those who plan to provide sustainability reports to certain investors and lenders based on those predictions.
Program
Monday, June 26
KEY DEFINITIONS, DEVELOPMENTS AND ESG DRIVERS (2 Hours): 10-12am
MACHINE LEARNING (2 Hours): 12:30-2:30pm
PYTHON FOR MACHINE/DEEP LEARNING (2 Hours): 5-7pm
Tuesday, June 27
ESG FACTORS AND IMPACT ON ANALYSIS/VALUATION (2 Hours): 10-12am
ARTIFICIAL INTELLIGENCE IN USER EXPERIENCE (2 Hours): 12:30-2:30pm
WEB SERVICES (2 Hours): 5-7pm
Wednesday, June 28
HUMAN-CENTERED ARTIFICIAL INTELLIGENCE (3 Hours): 10-12am and 12:30-1:30pm
MOBILE COMPUTING (2 Hours): 5-7pm
Thursday, June 29
ARTIFICIAL INTELLIGENCE-EMPOWERED SOFTWARE TECHNOLOGY (3 Hours): 10-12am and 12:30-1:30pm
FUZZY LOGIC-BASED SOFTWARE TECHNOLOGY (2 Hours): 5-7pm
Friday, June 30
Panel discussion and poster session (3 Hours): 10am-1pm
GALA Dinner: 8-10pm
Faculty
Fees and Payment
For Professionals and Academics, the cost is 400€
For Active Students the cost is 300€
The cost includes registration fees and a gala dinner. The organizers will make any effort to reserve a certain number of hotel rooms for the participants of the school; however, the participants are free to make their own accommodation efforts.
Posters Panel
The school organizes a Posters Panel for PhD students who wish to present the main points of their relevant doctoral dissertation.
Apply
Submissions and Registrations will start on April 1, 2023 till June 20, 2023. Information on the procedure of payment will be announced soon.
Venue
Ceremony Hall - Poros Town Hall
You can see Photos and Videos of Poros in the poros.gr website.
Sponsors
Contact
You can contact us at aisummer23 (at) unipi.gr