---
Dept. of Banking and Financial Management
Gikas Hardouvelis, Professor
Β.Α. (Εφαρμοσμένα Μαθηματικά, Harvard University)
M.Sc. (Εφαρμοσμένα Μαθηματικά, Harvard University)
Ph.D. (Οικονομικά, University of California, Berkeley)
Γραφείο
303
Τηλέφωνο
(+30) 210.41.42.136
Email
ghardouv@unipi.gr
Ώρες Γραφείου
Χειμερινό Εξάμηνο 2018- 2019
Τρίτη 18:00 – 19:00, Παρασκευή 18:00-19:00

Προσωπικό Site
www.hardouvelis.gr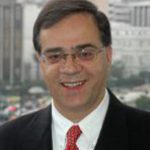 Minister of Finance of the Hellenic Republic. Professor of Finance & Economics, Department of Banking and Financial Management, University of Piraeus.
Member of the CIIM Academic Council and Research Fellow at CEPR & CMBI.
He holds a Ph.D. in Economics (1983, U.C. Berkeley), and M.Sc. & B.A. in Applied Mathematics (1978, Harvard University).  He was Assistant Professor at Barnard College, Columbia University (1983-1989), Associate Professor and subsequently Full Professor at Rutgers University (1989-1993).
During 2005-2011 & 2012 -2014 he was the Chief Economist, member of the Executive Committee (2012-2014) and Head or Economic Research of Eurobank Group. He was a member of the Board of Directors of the Foundation for the Economic & Industrial Research and of the Academic Council of the Hellenic Banks Association & its EMAC-EBF representative. He was the Director of the Economic Office of Greek Prime Minister Lucas Papademos (Nov. 2011–May 2012) and Office of Greek Prime Minister Costas Simitis (2000 -2004)
He has extensive banking experience: FRB New York (1987-1993), Bank of Greece (1994-1995), where he also acted as Second Alternate to the Governor at the European Monetary Institute, Chief Economist at the National Bank of Greece (1996-2000). He played a critical role in the establishment of the Athens Derivatives Exchange, as an original member of its Board of Directors (1997-2000).
His academic work extends in Finance and Macroeconomics and is published in journals including the American Economic Review, Journal of Finance, Quarterly Journal of Economics, Journal of Monetary Economics, etc. He was included in the Hall of Fame of the top-50 individual publishers worldwide in applied econometrics over 1989 to 1995.